See your true first pass yield and analyze data in real-time to find the problems limiting your manufacturing process.
By focusing resources to the right areas your yield will increase.
WATS gives you detailed information on your test and repair processes, and the issues causing failures.
Use the built-in root cause analysis to target problems and fix the process to prevent future failures.
Proactive use of information from test and repair data will improve manufacturing processes and quality of your products. Increased efficiency, reduced repairs, reduced service and field returns will increase your profits.
Sign Up Today & Start Analyzing your Test Data
Get 30 days free when you sign up now.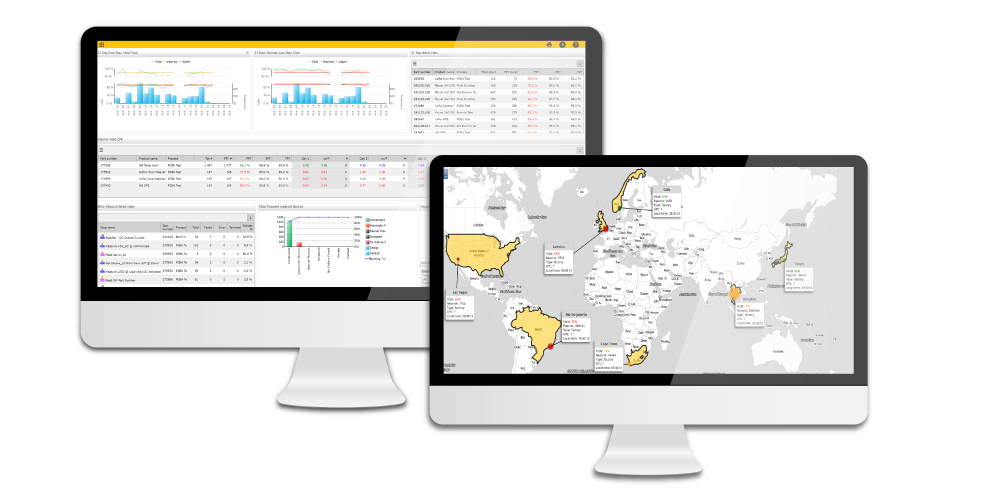 What is WATS?
The WATS Test Data Management platform helps you put all of your Manufacturing and RMA Test and Repair Data to work. Any structure, format or source of the data, WATS lets you see your data as one. In real-time, directly in your web browser. This allows for an unrivalled ability to transform your data into actionable insight through statistical and qualitative analysis. Learn more about WATS.
Features
Statistical calculations and data analytics are a core feature of WATS. Our customers benefit from the effective guidance of a top-down approach, where True Yield metrics are at the center. You can quickly and easily break down True First Pass Yield from a global level, into more granular statistics for different products, revisions, test stations, periods, processes, rolled throughput, and actual failing test steps.  See all the WATS features.
WATS Mobile app
Access data from your manufacturing sites directly on your mobile phone.
The app offers overview of yields and volumes and drill down capabilities to see failed tests and trends. Built in scanner to quickly access test history on your products. More information
Data processed, and counting