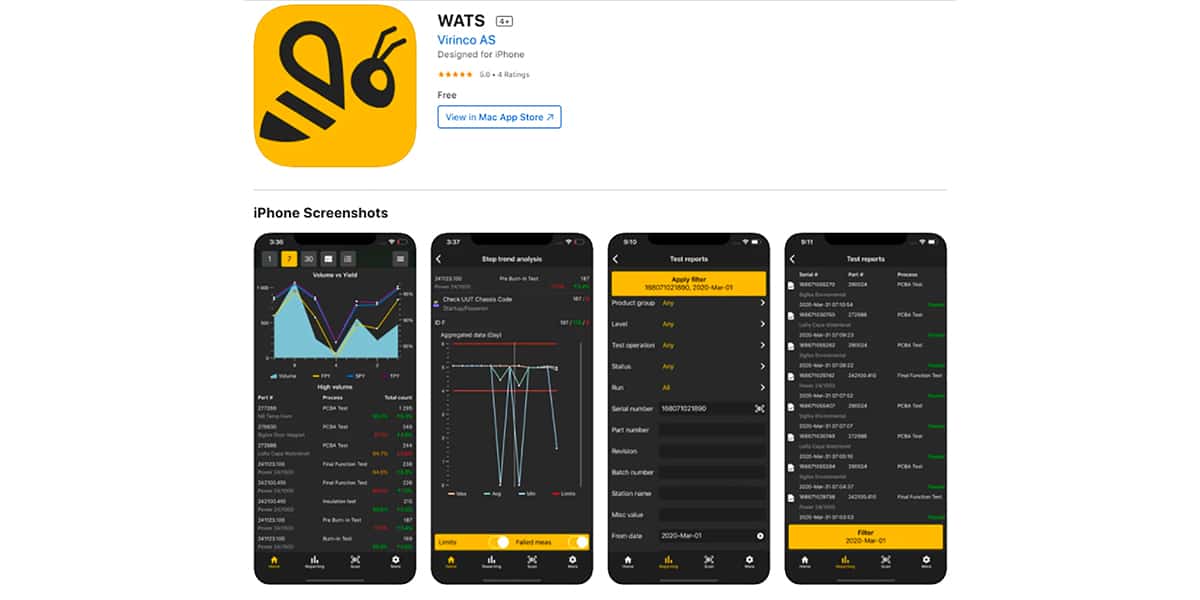 When something urgent comes up in your testing or manufacturing process, having on-demand access is key. But few people are glued to their computer around the clock.
As mobile devices have become an integral part of our daily lives, having fast, on-demand access to the information that matters is vital.
That's the thinking behind the WATS mobile application – to give quick access to production and test data whenever and wherever you are.
Complete Test And Production Overview
Open the app and the dashboard appears first. The front screen displays your 7-day volume and yield numbers, allowing you to see if numbers rise or fall. From there, you can easily navigate to details relating to the factory or product you want to know more about.
You can also see different tests like PCBA and ICT – including part numbers and product names – and can also review alarms set in the web app; which indicate when there's a drop in production so that you can take immediate action.
The app also lets you compare yield and volume quickly to 1 or 30-day views, allowing you to see if your daily numbers match your monthly output and gauge how much you produce in a specific period.
With the test functionality, get specific test details right from the app. For example, in the ICT test, you can see the top ten failures with aggregated test data, including the max and minimum test values.
Barcode Scanner For Product History
WATS mobile app also features a scanner, which lets you scan product barcodes using the phone's camera to reveal a product's complete history.
The scanner reveals all repair and test data, including failure and pass rates – giving you the complete history of every device manufactured in your production plants. It also gives you access to product reports – and allows you to export full test logs for the specific tests performed.
The app also provides access to all crucial top and lower-level information, and enables you to read repair reports, ensuring you keep a keen eye on your data.
Secure, Free, & Collaborative
The application is available for free to all WATS users and is easy to use, install, and get to work with. Simply sign in and get instant access to the production data. It's also completely secure, using standard encryption methods.
The REST API powering WATS is also available, allowing customers to freely develop their own specific integrations and functionality. More functionality is planned in the near future.
Ultimately, the WATS mobile application is an excellent, flexible tool that allows our users to stay updated anytime, anywhere. With more people working remotely, having easy, instant access to a whole range of data across numerous platforms is essential.
After all, despite the restrictions many of us face right now, the wheels of commerce and manufacturing need to keep turning. We'll continue to help our customers do that however we can.
Want to give it a try? Download the WATS application for Android or iPhone.