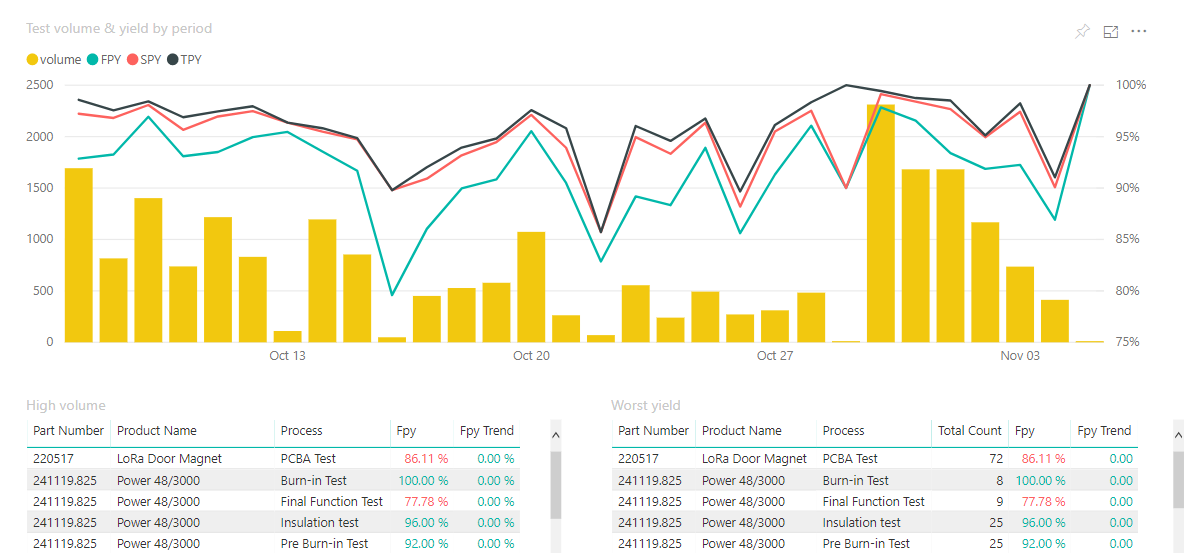 Do you work for one of the many companies that uses Microsoft Power BI for data reporting?
Does it sound great to have a data dashboard for manufacturing test performance? One that combines key indicators from test data with other data sources. Such as an ERP or MES system, or RMA Ticket System.
If so, we have news for you.
Today we are thrilled,  proud, excited (you get the picture). To announce a first ever in its category.
An officially available Power BI Dashboard for Manufacturing Intelligence for electronics manufacturers.
A Power BI Dashboard that allows you to report metrics such as True First Pass Yield, production volumes, and worst-yield products.
The current features are not very advanced. But this dashboard represents a significant commitment for the WATS product team. And that is connectivity to third party systems. This is said to be one of the major important trends required for IoT, Enterprise Software and SaaS providers in the coming years.
This is the start of a journey for WATS and our customers. One that will enable new and exciting use cases. Such as tighter integration with Enterprise Software, Artificial Intelligence, and Advanced Data Visualization.
Power BI is a strategic integration choice
Microsoft Power BI is the leading platform for Analytics and Business Intelligence. A position it has held for 12 consecutive years at Gartner's Magic Quadrant.
"Microsoft is investing in a broad set of visionary capabilities and integrating them with Power BI. Investments include enhancements to augmented analytics and making new AutoML features available in Azure Machine Learning. Azure cognitive services, such as text, sentiment and image analytics and AI, will also be available through Power BI for use by people with minimal data science skills, among many others."
Gartner Magic Quadrant Report
The Power BI integration with WATS will gradually become more advanced and flexible, as we continue to develop and expand the public RestAPI in WATS.
You can access the dashboard and download from Microsoft AppSource.
Stay tuned for more news on this in the coming months.