Do you work for one of the many companies that use Microsoft Power BI for data reporting? Does it sound great to have a data dashboard for manufacturing test performance, such as First Pass Yield, Overall Equipment Effectiveness (OEE), or Test Asset maintenance status in Power BI?
A dashboard that combines key performance indicators from production testing with other data sources. Such as an ERP or MES system or RMA Ticket System.
If so, this post is written for you.
You are looking for the WATS Power BI Dashboard for Test Data Management, built to monitor electronics production.
This integration between WATS and Power BI provides unrivalled flexibility and scalability for integrating your factory-level test systems and the aggregated information from these, up to the Enterprise level for visual reporting.
This Power BI extension is even available for the Free version of WATS.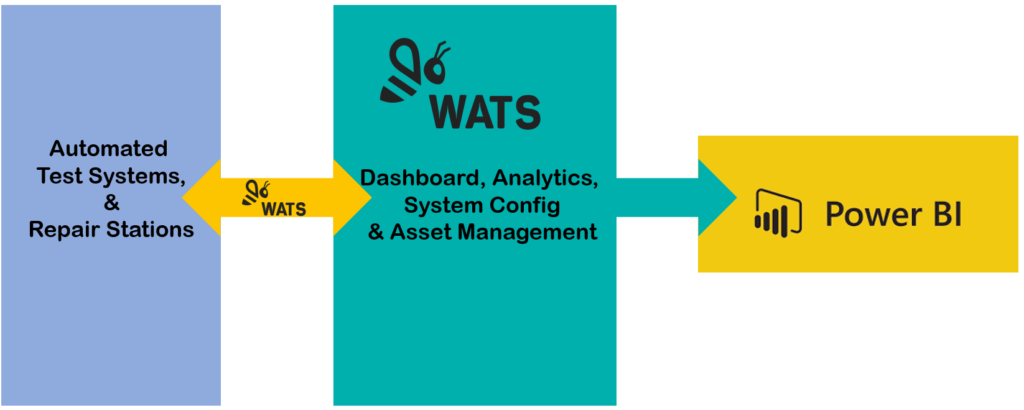 This Power BI Dashboard easily allows you to report metrics such as True First Pass Yield metrics, yield trends per product, production volumes, and worst-yield products. And then also combine the visual widgets in PowerBI with widgets from other manufacturing information solutions such as ERP or MES systems.
The current features are basic visual reporting of common KPIs in electronics manufacturing. But this dashboard represents a significant commitment for the WATS product team. Connectivity to third-party systems. This is forecasted to be one of the major important trends required for IoT, Enterprise Software and SaaS providers in the coming years, and the ability to use off-the-shelf, fit-for-purpose solutions to construct an optimized and customizable software technology stack will be one of the determinants for the success of manufacturing businesses.
This is the start of a journey for WATS and our customers. One that will enable new and exciting use cases. Such as tighter integration with Enterprise Software, Artificial Intelligence, and Advanced Data Visualization.
Power BI is a strategic integration in WATS
Microsoft Power BI is the leading platform for Analytics and Business Intelligence. A position it has held for 12 consecutive years at Gartner's Magic Quadrant.
"Microsoft is investing in a broad set of visionary capabilities and integrating them with Power BI. Investments include enhancements to augmented analytics and making new AutoML features available in Azure Machine Learning. Azure cognitive services, such as text, sentiment and image analytics and AI, will also be available through Power BI for use by people with minimal data science skills, among many others."
Gartner Magic Quadrant Report
The Power BI integration with WATS will gradually become more advanced and flexible as we continue developing and expanding the public RestAPI in WATS.
You can access the dashboard today and download it from Microsoft AppSource.

Stay tuned for more news on this in the coming months.
About WATS
WATS is an industry-leading Test Data Management solution for Electronics Manufacturing.
It automates real-time data collection and data sorting, saving you tremendous resources that usually are consumed by such activities.  And it provides you with unrivalled insight into your current manufacturing test performance.
Relevant features include Live Dashboards, True First Pass Yield, Step-Fail Pareto, Rolling Yield, Process Yield, Process Capability Analysis, Alarming, SPC/Run-Charts, Repair Interface and Repair Statistics, Manual Inspection, Software and MAC Distribution, Overall Equipment Effectiveness (OEE) and an Asset Management module that lets you monitor the maintenance status of all your test assets.