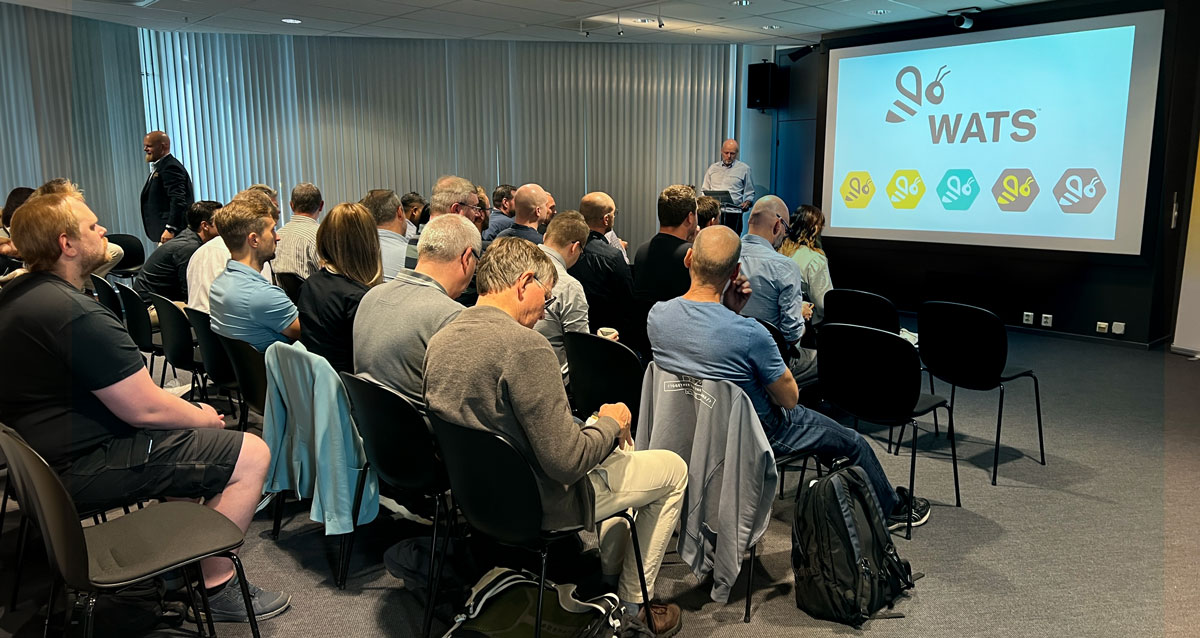 Last week's WATS Up event was a fantastic experience, highlighting just how passionate WATS™ users are about the best test data management software on the market. With a host of amazing clients in attendance, there was a real energy and enthusiasm as attendees got to dive into some of the recent changes to WATS™  and learn more about the exciting things that are on the horizon. Here's how it all went down.
By The Numbers
Kicking off the day, our CEO, Tom Andres Lomsdalen, introduced some of the stats that we're all very proud of at WATS. Right now we've processed nearly 100 billion test reports, and we have over 200 customers across the globe. That customer base is certainly diverse as well, ranging from manufacturers of high-end audio products all the way through to water pumps. Bring all those things together, and it's clear why we've grown 40% over the last 12 months.
Diving a level deeper, looking at the WATS product itself, we've been able to tap into a wealth of user feedback in launching the most recent version 23.1 which now supports local time and an enhanced date picker – so getting the right information from the right place is easier than ever.
On top of that, the WATS dashboard has seen big changes, such as its streamlined menu structure alongside improved connection and execution time reports. We're always looking for the best thing to develop next, but events like WATS Up give us the chance to find out from the people who use it every day, and that's invaluable.
The Future (Including AI)
Looking beyond how WATS works right now, Tom took attendees through a clear roadmap for its future. With an emphasis on continuous deployment and feature enhancement, the focus is on rebranding the 'Reporting' segment as 'Analytics', providing users with a deeper dive into their data. Root cause analysis – a concept drawn from Six Sigma principles – is getting a complete makeover.
We've spoken about the nature of AI in what we do, and recognize the potential of it, but also that it's important to not just get caught up in buzzword bingo when it comes to developing the WATS platform. To that end, we thought that WATS Up was the perfect time to give our customers the first official sneak peek into WATS Alvea™ – the AI leap for WATS. There'll be a lot more info coming out about WATS Alvea™ very soon, but to say that people were excited about its potential would be an understatement. So watch this space!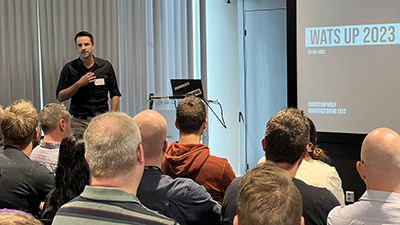 Christian Wolf, from Soundboks
Community Spirit
The test engineer community might not be huge, but it's definitely passionate. The fact that people came from all over the world to hang out with like-minded people says it all. We also like to give the spotlight to customers who have become champions of the WATS platform. Christian Wolf's presentation on Soundboks, covered their journey from a garage startup in 2015 to a global brand in 2023, and the pivotal role that WATS plays in their testing procedures to make that a reality.
Even as we broke away from the talks and presentations, there was a genuine sense of togetherness whether it was over lunch, or with pizza and beers in the evening once all the 'work' was done. That sense of community is at the core of what we do, we really couldn't make WATS what it is without the people who use it. WATS Up is a space for exchanging ideas and discussion on how to do what we all do better. That's not going to change, no matter how big we get.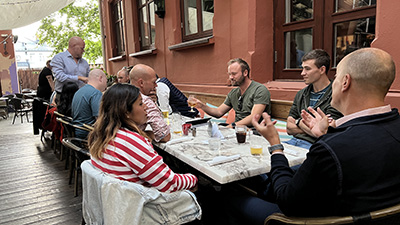 How was your WATS Up day?